I strongly believe that true leadership doesn't require any designation or position. Anyone who believes in team spirit, who puts team success 1st over his own achievement, Who shows strong faith in every team members, can show great leadership qualities for his team as well as for the entire organization. This whole fact is truly explained by Jasprit Bumrah's gesture in 2 events of the final match of IPL2019. The match was on its highest level of excitement, adrenaline was rushing through fans of every TEAM. CSK had full control on match as Shane Watson was standing firmly on the pitch who was leading his team towards historical victory.
In 17th Over, Bumrah came to bowl & he lined up Watson by delivering a bouncer. Ball hanging in the air, Rahul Chahar ran to catch it but the ball was popped out of his hand. The whole Mumbai fans and team were shocked as they lost this greatest opportunity towards victory. Chahar was in huge stress and disappointment.  As a captain, Rohit Sharma also became sad and disappointed. But Bumrah shows a very respectful gesture for all cricket fans. With little disappointment, he maintained his cool & kept a smile on his face, saw towards Chahar & moved for his next spell as if nothing big happened.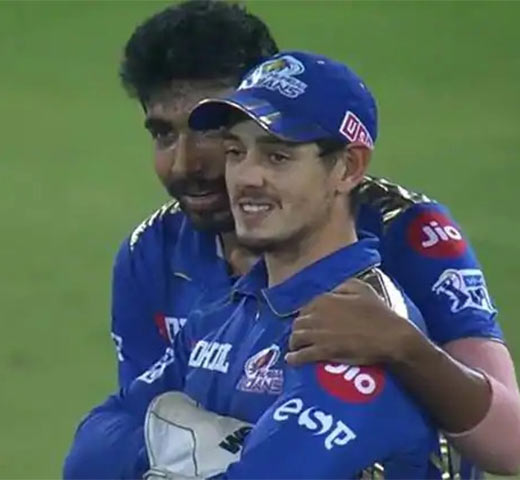 In a nailbiting moment, when CSK was in need of 18 runs out of 12 balls. Both Team fans were praying hard for their respective teams. Blood circulation and heartbeat were in highest rate. Again, Jaspreet Came to bowl it's 19th over. In his last delivery, he delivered a bouncer to Ravindra Jadeja. The ball reached to wicketkeeper Quinton DeKock who couldn't convert it into the catch. The ball popped out of his gloves & crossed the boundary.  Mumbai fans were burst out into huge anger & teams were completely shocked. DeKock was speechless and highly disappointed. It was nearly going to cost the IPL final victory. When every team member wanted to attack DeKock, Bumrah showed no signs of anger and instead, he ran toward him, wrapped his arms towards Decock's shoulder & consoled a broad smile.
These two events prove Bumrah's great leadership quality. He could have proved himself a pseudo-serious team member by showing his anger on his teammates & put himself on high and others teammate low before the team, management, owner & whole country, But he didn't. By his generosity, he sent a strong message which can be done by the true leader only.
Those  messages  are :
# 1: As far as the team is fighting for one goal & every team member is giving their best, UNINTENTIONAL MISTAKES can be bypassed  & everyone must move ahead for team's next course of action.
#2: Team member must keep a high faith in each other. They must share the success and failure of each other to make their team Victorious.
Thus Jasprit Bumrah manifested his great leadership skills in spite of any designation & position & won the heart of many cricket fans in India & Globally.
Managers, team members & freshers, they all can learn from above events & they must strive for developing their leadership skills in spite of any designation or position.
-BOOM BOOM Bumrah